Compliance Specialist
Direct Phone: 303.952.7537
Direct Fax: 303.952.7538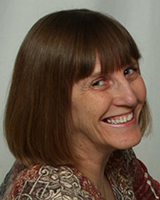 Prior to joining the Advantage Credit team in June 2012, Gail had over 6 years of experience in the credit reporting industry, both as a processor and in the consumer dispute arena. Over the past couple of decades, employers have sought out her expertise in creating, publishing and implementing standard operating procedures and to provide training to co-workers, which included travel to Costa Rica to train her job replacements.
Though a Texas native, Gail moved to Colorado in 1983. She enjoys time spent with both of her sons and their families who, for now, also live in Colorado. Gail also enjoys spending time as often as possible with both step-daughters and their families, who live in Fredericksburg Texas and Beaverton Oregon.
Though Gail's happy place is Cannon Beach Oregon, she enjoys, snowshoeing, bird watching, photography, gardening and traveling, with journeys to China, Costa Rica, S. Korea, Germany, Hungary, Slovakia and Austria…where she was delighted to be able to dabble her feet in the Danube river!