VOE/Tax Transcript Data Processor
Direct Phone: 303.952.7587
Direct Fax: 303-952-7588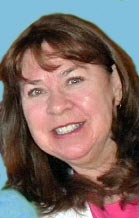 Susie was born in Chicago, Illinois and grew up in a suburb called Lisle. NIU in DeKalb was the college she attended. After an exciting ski trip to Aspen, Susie fell in love with Colorado and made it her new home. She lived in Vail for five years and then moved down to Denver to finish her college education and find a real job as a graphic designer. She ended up being the Art Director for Vail Magazine, Denver Magazine and Denver Business Journal and won several awards for her designs. Susie owned her own graphic design studio called Charter Graphics, and just loved having her own business. Later down the road, she found a wonderful job with AMC Cancer Research Center where she was a program administrator and assisted 53 cancer research scientists with their grants and research for 15 years. When the University of Colorado Denver merged with AMC in 2005, Susie became a Procurement Coordinator. She handled all purchasing, contracts, and grants for the scientists and administrators.
In Susie's spare time, she helps her mother with her home and finances and plays with her wonderful Golden Retriever puppy, Buddy.
She is very happy to be working for Advantage Credit and feels that this will be a long and happy relationship!